Athletic therapy at Calgary Centre for Health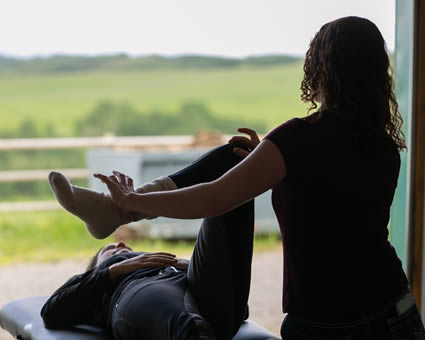 What is athletic therapy?
Athletic Therapy is a form of physical therapy with expertise in musculoskeletal conditions, to provide comprehensive, consistent care from the injury to a safe and full return to activity in all areas of life. Therapists must undergo stringent education and testing standards to certify at the national level.
Therapists also provide pre-hospital medical emergency management, immediate care, and reconditioning of musculoskeletal injuries and illnesses. We provide an objective perspective to help teach people how to minimize the risk of further injuries/illnesses.
NEW PATIENTS

How does it help me?
Athletic therapy may improve tissue longevity by incorporating stretching, stability, range of motion, muscle firing patterns and strengthening techniques. Each program is designed to meet the patient's needs and ensure the best possible results.
Practitioners adhere to the sports medicine model of care. We treat a wide range of patients, from kids with concussions to seniors recovering from hip replacement surgery, using various manual therapies, modalities, exercise prescription, and bracing and taping. The care plan may vary, but the objective doesn't – we're here to help people return to their usual activities, whether that means playing competitive sports or walking to the mailbox and back.
Athletic therapy benefits
Increased energy
Better posture
Faster recovery from injury
Reduced onset of chronic pain
Improved flexibility
Improved nervous system function
More stamina
Better endurance
Increased strength
Better breathing
Reduced stress
Improved sleep
Book a session
Let's help you enhance performance and move better.
---